We will explore opportunities and overcome barriers for underutilised crops (UCs) via European dynamic value chains.
In the RADIANT project, we will identify, co-create and test transformation avenues using participatory approaches deployed via 20 pilots "Aurora Farms", which cover different agroecologies across Europe, and where good practices will be tested and demonstrated.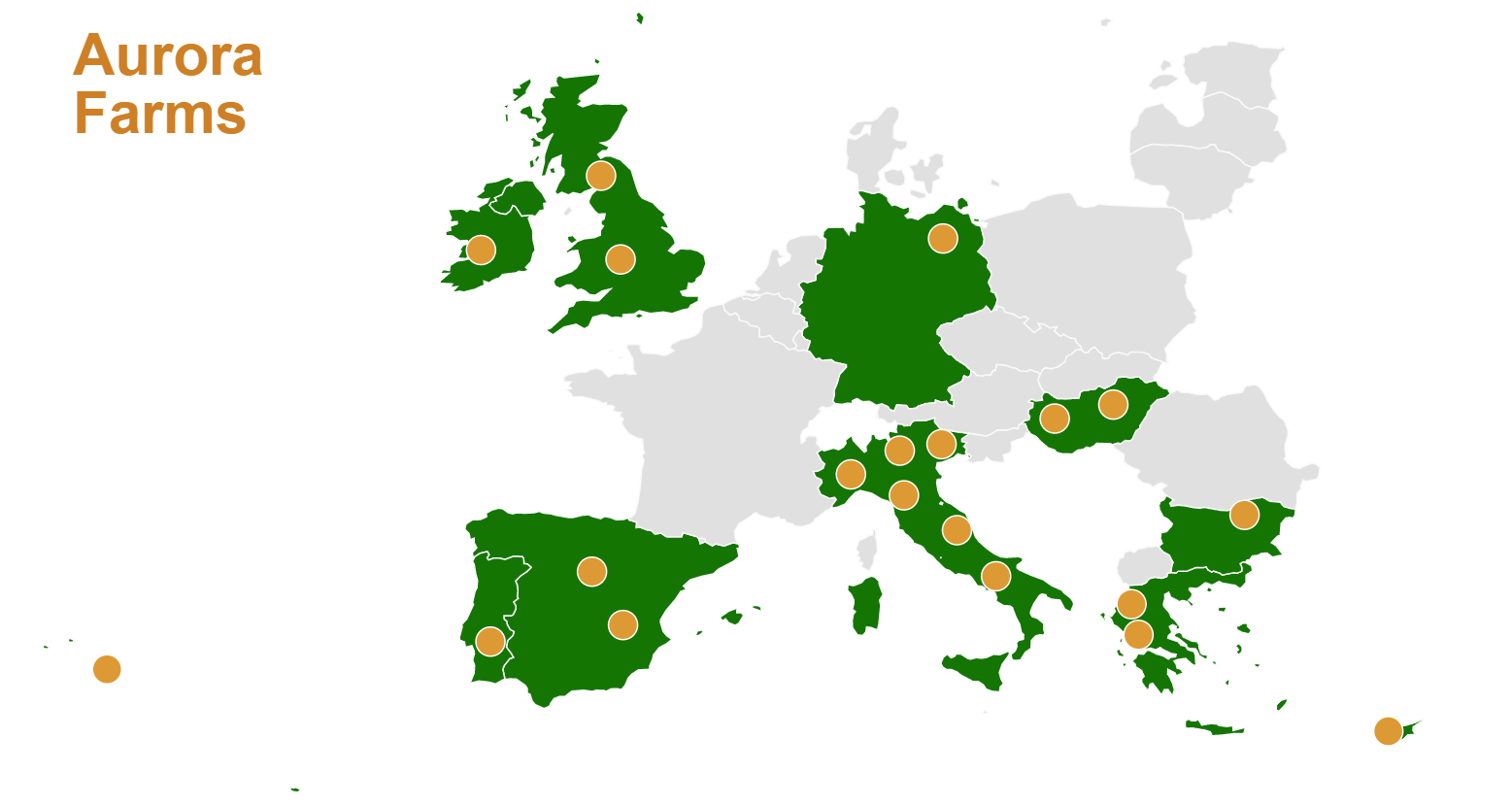 The functional diversity of selected UC types, spanning cereals, legumes (grain and forage), vegetables and fruits, integrated into value chains for food and non-food uses will be characterised. This will expand the recognition of the value of UCs by characterising their functional attributes, spanning nutritional, health and environmental provisions. We will identify a set of ecosystem services (ES) and agronomic benefits of UC-based systems to ensure value-creation for environmental- (including native biodiversity) and/or physiological-health benefits, including the development of alternative food- and feed- formulations or valorization of traditional dishes. RADIANT will revalue the management of UCs to improve their performance and logic of breeding priorities by combining tailor-made participatory and ex situ approaches in different farming systems (including organic).
Top-down: RADIANT also develops and applies impact assessment tools to detail the consequential effects of UCs, including ESs and economic impacts. Such insight is allied to an appraisal of societal, governance and political aspects to discern the necessary changes for a systemic local/regional/national adoption of UCs. Building practical capacity for farmers-traders-consumers and short-supply networks will be facilitated via new (digital) marketing tools and business plans that ensure excellent consumer-producer links. The dynamic value chains will be monitored and optimised using state-of-the-art network analysis tools, including decision support systems for value chain actors.
By promoting underutilized crops, which include a mix of poorly produced species such as legumes or older, "forgotten" varieties of more common crops such as wheat, corn, barley or tomatoes, RADIANT's ambition is to reduce the 'production gap' between the most popular and under-utilized crops, and the 'nutritional gap' – between the most consumed foods, and the foods most needed for a healthy diet. The project will recruit 45 farmers to integrate these underutilized cultures, carrying out adaptive agrobiodiversity management through tools built by the project.
Do you know which are the different end uses of RADIANT's Underutilised Crops❓

Stay tuned to find out more ?#agrobiodiversity #agrobiodiversityproject#agriculture #underutilisedcrops #nature pic.twitter.com/3pxjXELkp1

— RADIANT EU (@eu_radiant) February 4, 2022
The partnership is comprised of 29 entities from 12 countries – Portugal, Slovenia, United Kingdom, Hungary, Spain, Greece, Italy, Germany, Ireland, Bulgaria, Netherlands, Cyprus – and also counts on the Food and Agriculture Organization (FAO) of the United Nations as a partner.
ESSRG is responsible for exploring transformative policies for dynamic value chains, implementing sociocultural evaluations, and gathering policy incentives.
This work is supported by European Union's Horizon 2020 research and innovation programme through the project "Realising Dynamic Value Chains for Underutilised Crops" (RADIANT), grant agreement No. 101000622.
Who's responsible for it?