ESSRG's YouCount project has successfully arrived at the mid-period. Consortium members met in Copenhagen (Denmark) in June for the first time to move the project forward and share research results across the 10 case studies, including the two Hungarian cases.
The YouCount team has gathered in the South Harbour of Copenhagen for the third consortium meeting. It was great to finally meet face-to-face with colleagues and youth from Italy, Hungary, Spain, Lithuania, Sweden, Denmark, Norway, Austria and the UK. I share below a few highlights from our meeting.
Co-learning at Aalborg University
The very first physical consortium meeting took place at Aalborg University, thanks to our Danish colleagues who helped the Norwegian OsloMet team to organise two fruitful and very inspirational days at Aalborg University. At the Copenhagen campus, we had the opportunity to learn more about the socio-economic context and the institutional infrastructure of the Danish case study.
Aalborg University differentiates itself from more traditional Danish universities with an interdisciplinary focus on cross-faculty studies; an experimental curriculum based on an interdisciplinary core course and subsequent specialisation; a pedagogical structure based on problem-oriented, real-life projects with educational and research relevance.
Sharing experience in a poster session
The YouCount project integrates 10 case studies, including locally-embedded projects run by researchers from the hard-of-hearing research group in Szeged and by Roma youth from Siklósbodony. At the poster session, ESSRG researchers Barbara Mihók and Márton Oblath, case researchers, who represented the research groups, shared the latest results of their research in poster formats.
Poster presentations have proven to be a concise and visually expressive way to communicate each YouCount case study. This format in small groups generated an ongoing conversation on the young researchers' need and their role as citizen scientists in the project. Gender and cultural background of the participants has been found to be essential in most cases when it comes to creating a socially inclusive space.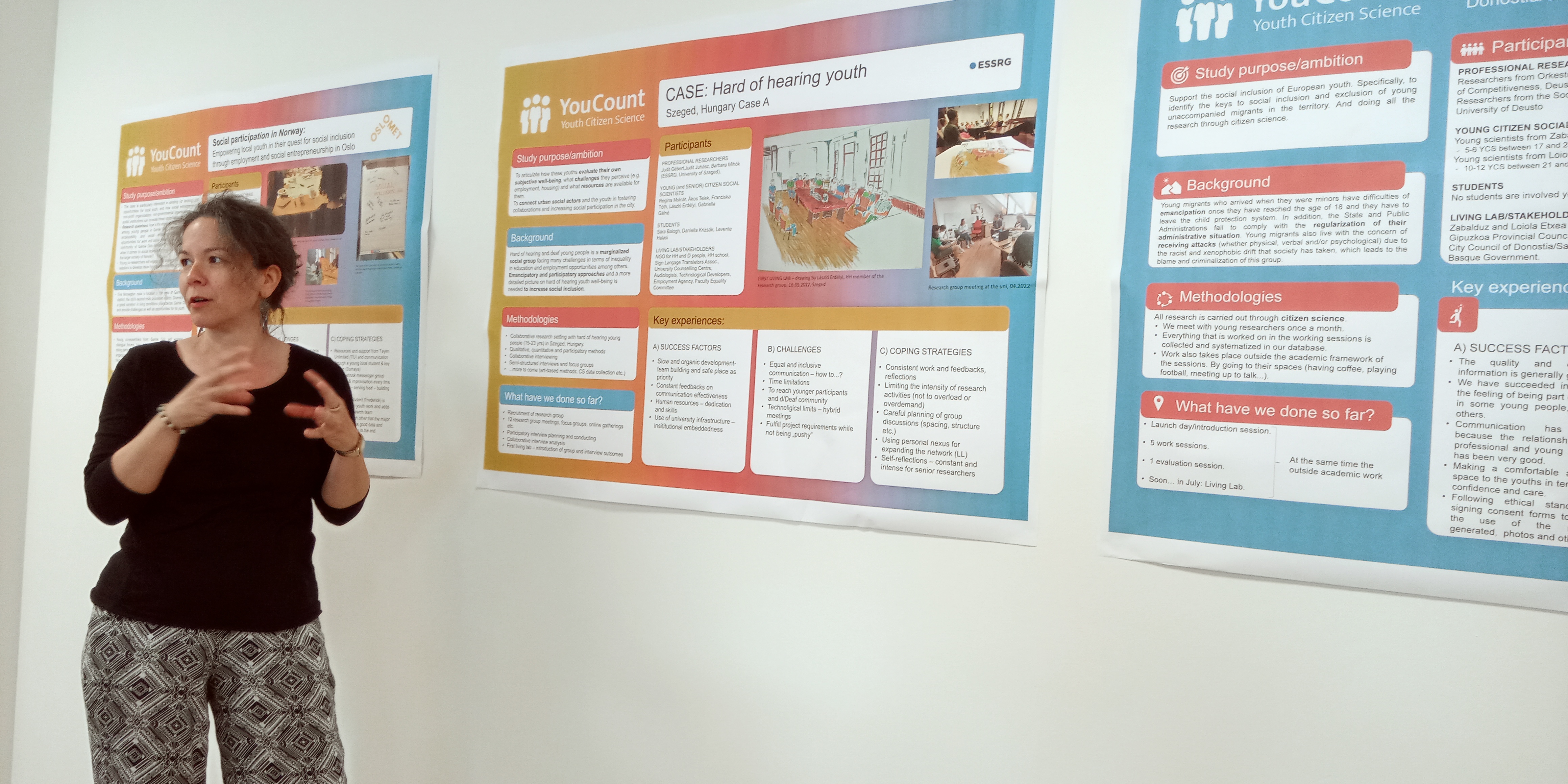 Citizen science app testing
The YouCount project aims to generate new knowledge and innovations to increase the social inclusion of youth at risk of exclusion across Europe through co-creative youth citizen social science. Our Vienna-based partner, Spotteron has been designing a user-friendly, citizen science mobile app for large-scale data collection. YouCount case researchers co-designing the app with Spotteron with the aim of involving youth directly in the data collection process. Youth researchers will collect data via the app and share their knowledge about social inclusion, exclusion and social change they experience in their local environment.
At the consortium meeting, we tested the first version of the app together by mapping locations around the university. We walked around in small groups and took time to reflect on our relationship and feelings about each place. The app's features allow us to document, in pictures and text, our feelings and first impressions of the places we cross and events we observe.