On the 28th and 29th of September, at the second YouCount Consortium Meeting, ESSRG researchers delivered a brief presentation on their ongoing research and working groups' activities.
Early-Carrier Researcher Group
Alexandra Czeglédi, junior researcher, briefly introduced the Early-Carrier Researcher Group (ECRG) to the Consortium. The ECRG of YouCount project is a semi-formal peer-to-peer group connecting Masters and PhD students to build their expertise and carrier opportunities across YouCount actively.
Case Studies
Youth across Europe participate in YouCount as citizen scientists in case studies to explore positive divers for social inclusion and potential social innovations. 10 case studies from 9 project partner countries have lately been established. At the Consortium Meeting, Austrian, Danish, Hungarian, Italian, Lithuanian, Norwegian, Spanish, Swedish and UK-based case studies received spotlight for the very first time. 
ESSRG is an exception among the project partners as it delegated two case studies from Hungary (Hungarian cases A and B). Barbara Mihók and Márton Oblath, senior researchers of the Hungarian cases, presented their preliminary literature review findings and research questions regarding social inclusion. 
In the Hungarian case (A), Barbara Mihók, with Judit Juhász and Judit Gébert, forms a research team and co-creates a multi-sensory research process with hard of hearing youth in Szeged, Southern Hungary. The following Jamboard notes summarise their case study in a nutshell:

In the Hungarian case (B), Márton Oblath co-creates art-based research processes and agri-food and social innovations with the participation of Gina Bartáné Somogyi, co-researcher, and local youth in the village of Siklósbodony. The following Jamboard notes provide insight into their case, but also lists the outstanding cross-case messages: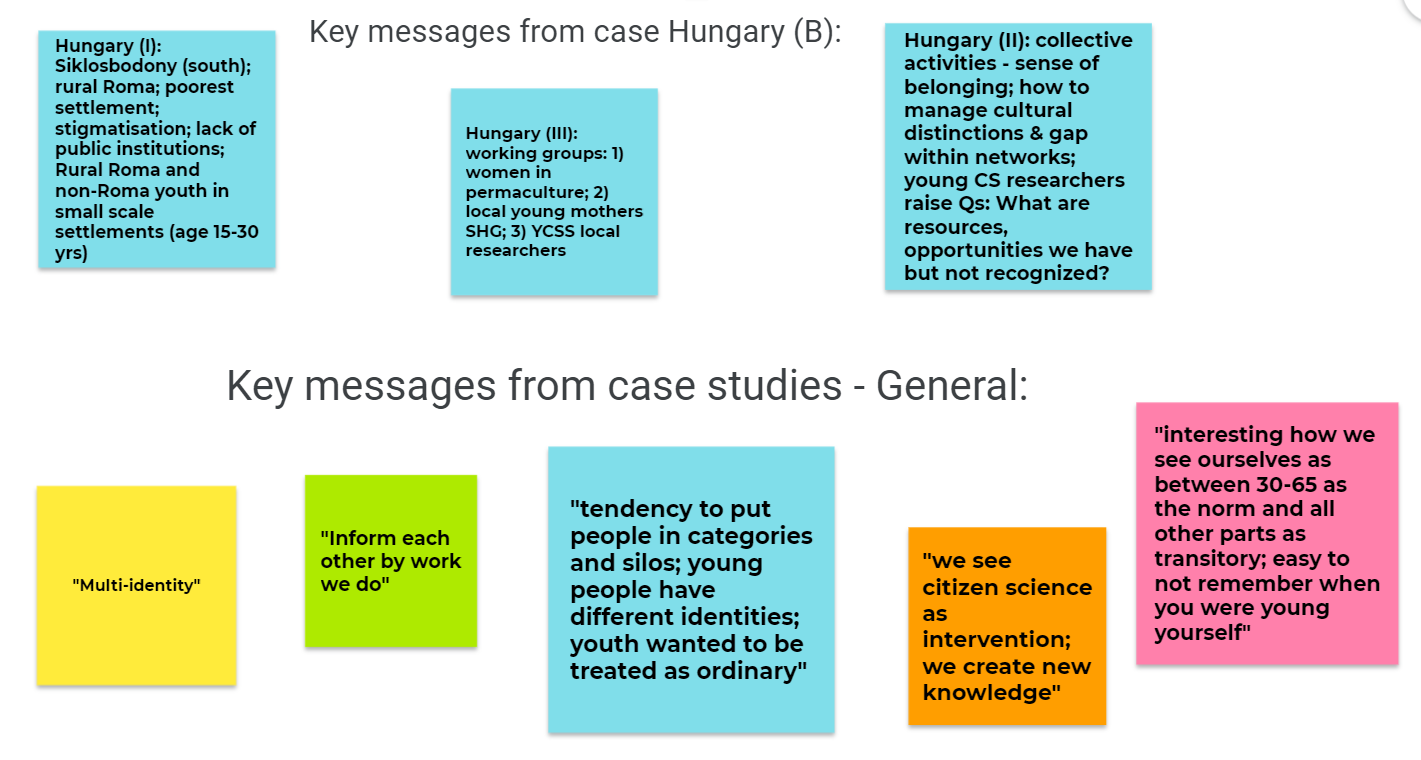 Citizen social science and social innovation 
YouCount aims to co-create knowledge on social inclusion and innovation within a shared citizen social science methodological framework. Regarding this, György Pataki, senior researcher, presented his key findings on the intersection of citizen social science and social innovation. He pointed out that both concepts are broadly spread and recognised within the EU. Yet, YouCount researchers might have the chance to look at these concepts through critical lenses since the usage of these concepts presuppose politicised intentions and actions.